News Archive
News items previously posted on the front page
Feb 22, 2019 – Precision Manufacturing

Fin production is progressing quickly now. This interesting picture shows WhisperFins being precision-milled out of billet aluminium bars. They're not stamped out of rolled aluminium sheets where thicknesses can vary up to .006″. Milling billet not only produces the most consistent product possible, it also maximizes the fins' strength and durability. There are a lot of variables in play when skiers share setups, WhisperFin thickness and stiffness will not be among them.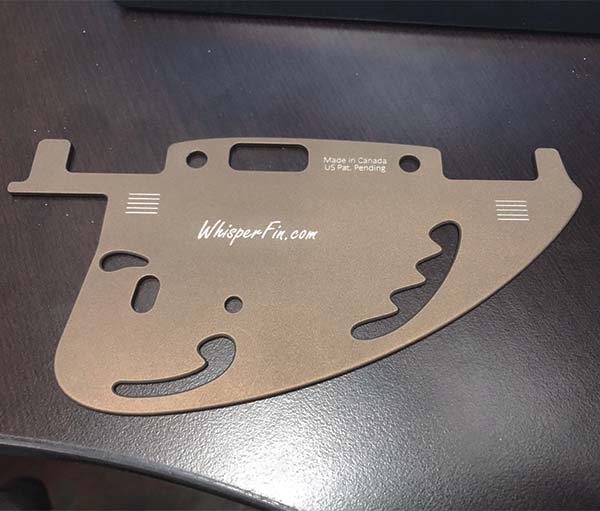 Feb 15, 2019 – Presenting WhisperFin # 0001

Up until now, every WhisperFin in existence has been hand made by yours truly. This is a photo of the first fully manufactured fin to pass our long list of quality controls. Full production will start on Monday. It will take approximately two weeks for the first run to be complete, followed by shipping to Florida for packaging and at long last, distribution.
Feb 4, 2019 – WhisperFins Delayed Until Mid-March
It took three extra weeks to get exactly what we want out of the machine shop, but the last test run was a complete success. We're now fine-tuning hardening  and ceramic coatings. If this goes smoothly, we could be into full production within two weeks. But just in case, the projected shipping date is being extended into early March. We're pushing hard, but won't compromise quality.

Jan 20, 2019 – WhisperFins Production Begins
The first test run of the final fabrication process starts tomorrow. If all goes well, production of a limited number of fins will begin a few days later, and fins will be ready to ship in early February.